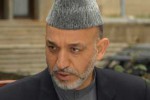 Afghans praised President Hamid Karzai today for rejecting an invitation made by his US counterpart Barack Obama during a surprise visit to the Asian nation.
Obama arrived at the US Bagram air base in the Afghan territory on Sunday, and sent a last-minute invitation to Karzai for a meeting.
The Afghan head of State said he would be pleased to welcome President Barack Obama at the Presidential Palace in Kabul, but rejected the invitation.
Abdullah Abdullah, one of the leading presidential candidates in Afghanistan's elections on July 14, welcomed President Karzai's decision to stay away from Bagram and said it was respectful to the people of Afghanistan.
In the meantime, another presidential candidate, Ashraf Ghani Ahmadzai,
said that the US visitor did not respect protocol and that adhering to protocol helps in cementing relationships.