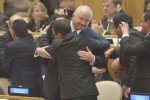 Venezuelan Foreign Minister Rafael Ramírez termed historic the admission of his country to the UN Security Council, with widespread backing from the General Assembly.
In brief remarks after the election of the five non permanent members of the UNSC, Ramirez recalled the campaigns launched to try to discredit his country, which could not prevent the support from 181 of the 193 members of the Assembly.
"This resounding triumph is a result of a decision by late commander president Hugo Chavez Frias in January, 2007 to apply for Venezuela's membershi. It shows the world respect his message of peace, solidarity and social justice continues having," said Ramirez.
The Venezuelan top diplomat thanked the international community for its support, particularly Latin America and the Caribbean, which promoted the single candidacy of Venezuela to the 15-member body, also to be joined by Angola, malaysia, New Zealand and Spain for the period 2015-2016.
In Ramirez' opinion, the voting today showed that the UN belongs to all states.
He also noted that his country will be the first nation to share the responsibilities as President of the Non Aligned Movement and non permanent member of the UN Security Council.
"We take up this challenge, determined to fight against the people's submission, domination, exploitation and foreign occupation and the refusal of fundamental human rights," he said.