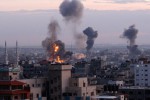 Israeli air raids have killed some 2,087 people in just 50 days of constant attacks on this coastal strip, while Palestine insists on returning to the negotiating table.
Ambulances are rushing to hospitals at top speed, trying to save the wounded, and the aggression is endless, causing the Palestinian delegation to negotiations to accuse Israel of not responding a peace offer made in the last few hours.
Gaza awoke to apparent calm, after two consecutive days of broken truce and a return to attacks similar to those it had experienced since the beginning of the conflict on July 8.
The death toll here was 38 yesterday; victims of Israel's targeted firing over two days.
The attacks are specifically aimed against leaders of the Hamas guerrilla group, Red Crescent facilities, and the Venezuelan solidarity brigade that arrived on Wednesday, Aug 20, to deliver a convoy with food and medicine.