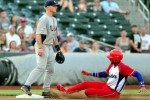 Between July 23-27 the 3rd baseball dual meet Cuba-USA will take place in Havana.
Cuba-USA Friendship Series: CNT Completes Sweep
The 3rd bilateral baseball meet Cuba-USA is scheduled for July 23-27, in Havana's Latinoamericano Park, as announced by the US federation of the sport, which published the game calendar of the Collegiate National Team (CNT).
The CNT which swept Cubans last year, will start the 2014 confrontations vs. Chinese Taipei, from July 1-5, then they are to face Japan from July 6-8, and on July 11-20 they should take part of the Honkbal – Haarlem Baseball Week. After all those games they are to meet Cuba so it's expected that they will be well "fired on".
These friendly series were renewed on July 2012 in the Latinoamericano Stadium, in Havana, and locals won three of the five encounters, however the CNT took revenge and swept Cubans in the matches celebrated in American soil.