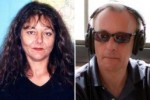 The killing of two RFI journalists in Mali has shocked France and the whole world, proving the apparent stability of the African country was just a chimera.
Ghislaine Dupont and Claude Verlon had travel to the town of Kidal to interview Ambeiry Ag Ghissa, acting head of the rebel National Movement for the Liberation of Azawad, or NMLA.
When they were leaving Ghissa's house, four gunmen grabbed them and forced them into a 4×4 vehicle. Minutes later their bodies riddled with bullets were found a dozen kms away from the city.
The UN Security Council strongly condemned the killings and reminded armed groups in northern Mali that according to the international humanitarian law, journalists operating in areas of armed conflict are considered civilians and, as such, they should be protected and respected.
Meanwhile, President François Hollande described the crime as 'despicable' and summoned Cabinet members this morning for a crisis meeting.
Journalists, political leaders and officials have condemned unanimously the crime and expressed their condolences to the victims' relatives.
However, some opposition leaders started questioning French intervention in Mali and the apparent success in fighting terrorist groups.