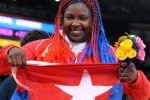 Judoka Idalys Ortiz, Olympic and World Champion, leads the Cuban women's judo team, traveling to St. Petersburg, Russia, headquarters of the 2nd World Combat Games, announced JIT.
According to the official site for the Cuban Institute of Sports, the event will be held from October 18 to 26 and will also include teams from Japan, China, Brazil, Mongolia, France, South Korea and the host country.
The multi-sport event will also gather representatives of 13 martial arts, both Olympic disciplines and others outside this classification, organized by the entity SportAccord.
Ortiz, champion in the more than 78 kg category at London-2012 and at Rio de Janeiro-2013, will be accompanied by Yanet Bermoy (52 kg), Anailys Dorvigny (57 kg), Maricet Espinosa (63 kg) and Onix Cortes (70 kg), trainer Ismael Borboña told JIT.
This selection of women was one of eight squads nominated by the International Judo Federation (IJF) to compete at the event, added Borbona.
Despite the short time for training, the Cuban coach assured that the team will go to try to reconfirm or improve the third places it achieved in team competitions at Salvador de Bahia – 2012 and Rio de Janeiro-2013, Brazil.