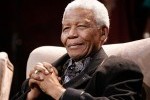 Various U.S. political and social sectors expressed today sorrow for the death of the first black president of South Africa and iconic world leader, Nelson Mandela.
From the black population of New York's Harlem to the White House were issued pain for the Mandela's death, which occurred on Thursday 5 in South Africa.
President Barack Obama describe Mandela as one of the most influential and corageous man in the history of the humanity, who sacrificed his freedom for others, a legacy that will stand the test of time, he stressed.
Mandela was a man who took the history in his hands and bent the arc of the moral universe toward justice, added Obama.
Other U.S political figures, including former Presidents George W. Bush and William Clinton, expressed their grief over the death of the man who was no longer on the questioned list of terrorist monitored by the United States only five years ago.
Then-President George W. Bush, signed a law that put Mandela and other South African leaders out of the list in July 2008, more than a decade after the fall of the apartheid regime.
This Friday, WikiLeaks dusted a 1990 article of The New York Times, which revealed that the CIA was involved in the Mandela's arrest.
A former South African official Gerard Ludi, detailed then how the U.S. agency provided the South African Security Department data for the arrest.
The death of the leader of the struggle against Apartheid held the main areas of the print media and television in the country.
The New York Times leads its front page on Friday with the phrase "A giant among men is dead" in recognition of the work of the iconic African fighter.