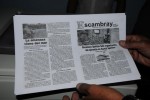 As part of the strategic national military exercise Bastion 2013, a provincial wartime newspaper, Escambray, was printed in this Cuban province. The newspaper presents an alternative position to presumed actions of systematic enemy attack.
After evaluating the possible destruction of the building where the provincial weekly newspaper is usually printed, the provincial Council of Defense decided to apply one of its planned variants to ensure publication in wartime.
With the support of various means of transportation, including the traditional ones in mountainous areas, the newspaper reached combatants and the population.
On the fourth day of Bastion 2013, monitoring organizations have also carried out their work to ensure the vitality of the country's defensive system and the efforts of different economic entities in time of war.
There were also tactical episodes involving regular units of the territorial troops militia and defense and production brigades.