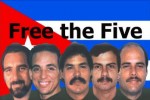 A vigil in front of the White House was convened today to be held on September 12th to mark the 15th anniversary of the imprisonment of five Cuban antiterrorist fighters condemned in an irregular trial in Miami.
During the peaceful vigil, the participants will ask U.S. President Barack Obama to free Gerardo Hernández, Ramón Labañino, Antonio Guerrero and Fernando González and let them return to Cuba, who are still imprisoned in federal jails, underlined a communiqué issued by the International Committee for the Freedom of the Five, the organization behind the initiative.
Members of the Committee and other friends will visit the seat of the Congress to follow up the visits to some lawmakers in June, during the program of activities carried out during the Five Days for the Five in Washington DC.
From September 11-17, Canadian writer Stephen Kimber must appear in seven activities in the East coast to talk about his most recent book: "What's on the other side of the sea-The True Story of the Cuban Five", noted the communiqué.
The book is the result of a large research work that included the writer's review of more than 20,000 pages of judicial records of the longest case of the U.S. history.
Experts have highlighted the irrationality of the sentences of Hernandez ( doubled life imprisonment plus 15 years), Labañino (30 years), Guerrero (21 years plus 10 months and five years of parole) and Gonzalez (17 years and nine months).