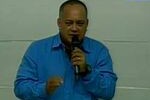 Venezuelan parliament president, Diosdado Cabello, asked the National Assembly to start a probe against Henrique Capriles and other opposition leaders for their responsibility for the violence reported in the country.
He asked that a penal probe be opened in order to sanction those responsible of what happens in Venezuela, Cabello said.
Referring to the hostile attitude of the opposition headed by Capriles, who incited to violence after denying to accept his defeat in last Sunday's presidential polls.
All this is consequence of the incapability of a candidate to admit his defeat. That is what they want for Venezuela: fascism, but they will fail in their intent because this government is no wimp and will carry on this investigation, he warned.
We will present charges with those responsible, wherever they go. We will ask a probe so those responsible assume their guilt in all that is happening in Venezuela, assured Cabello.
On this issue, he informed those who will be charged besides Capriles are: the governor of Lara state, Henri Falcon, the deputy Ismael García, head of the campaign command of the opposition, Armando Briquet, ex-mayor of Chacao and coordinator of the opposition party Voluntad Popular, Leopoldo López, and the mayor of the Sucre municipality, Carlos Ocariz.
He also said he will include in the list of instigators of destabilization acts, the rector for the opposition of the National Electoral Council, Vicente Díaz, who he accused of fifth columnist and doing sabotage in the electoral entity.
USA Behind Coup Attempt in Venezuela, Says Morales
The Government of Bolivia considered today that the US questioning of electoral results in Venezuela is a way to trigger instability in that country in order to justify a coup and intervention.
In a press conference today, President Evo Morales rejected the attitude of a Whote House spokesperson, who demanded yesterday a vote recount because of the tight margin between the two main candidates Nicolas Maduro and Henrique Capriles.
"I am certain that behind those remarks, the United States is preparing a coup d' Etat in Venezuela," Morales denounced, who described the US spokesperson's attitude as interference in the internal affairs of Latin America, and questioned the White House's moral authority to question electoral results worldwide.
"I would like to express that this is a flagrant US interference in Venezuela's democracy, as neither that spokesperson nor the US government has moral authority to question electoral results in any Latin American country or around the world," he said.
Morales confirmed his attendance to Nicolas Maduro's inauguration next Friday as an expression of support to his government.
Last Sunday, Venezuelan Acting President Nicolas Maduro won 50.75 percent of votes against Capriles's 48.97 percent.