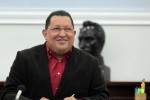 President Hugo Chavez has remained calm and stable in the past few hours of his recovery in Havana, accompanied by his daugthers, said Minister of Science, Technology and Innovation Jorge Arreaza.
In a Twitter social network meesage, Arreaza called fellow countrypeople to avoid believing malicious rumors about the president's health condition.
Venezuelan people's representatives attended a mass for the president's health at San Francisco Church, in downtown Caracas, on Monday.
Scores of citizens went to the mass offered by that church's parish priest, Numa Molina, who praised the strength showed by the president.
Minister of Information Ernesto Villegas, Capital District' s Governor Jaquelíne Faría, Libertador Municipality Mayor Jorge Rodriguez, among other country's authorities, also attended the mass.
The population responded the call made by Molina to pray for the president's health, who underwent a surgery on December 11 in Havana, Cuba.
A similar action was carried out at Bolivar Square in this capital, with the presence of many residents of this city.
According to the last official communique released from Cuba, the Executive Vice President, Nicolas Maduro, said that Chavez' health continues being delicate, with complications that are being treated, in a process with risks.
Maduro said that Chavez is facing this difficult situation thanks to his physical and spiritual strength.
The Executive vice president said he has decided to stay in Havana for the next few hours accompanying the president and his family.