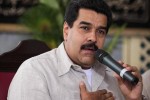 The acting President of Venezuela, Nicolas Maduro, said that the national government will guarantee the security of Presidential nominees for April 14 elections.
Maduro ratified the denunciation on the existing plans to attempt against the opposition candidate Henrique Capriles, in which foreign sectors are involved.
Interviewed by journalist Jose Vicente Rangel, Maduro extended a call to US President Barack Obama, on the implications of officials of the Central Intelligence Agency (CIA) and the Pentagon.
Maduro specifically mentioned Roger Noriega and Otto Reich, former Washington ambassadors before the Organization of American States and Venezuela, respectively.
We have good sources information of such an attempt with the purpose of creating chaos in the country, he warned.
That is why we publicly denounce these facts part of a coup plan and thence, the responsibility of guaranteeing the candidates security.
Our struggle is for peace and democracy, he added when stressing this people is going to give Chavez the 10 million votes in the upcoming elections.