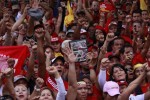 Media experts here charged today that there is a media war underway against the Venezuelan government, aimed and misinforming the population and destabilizing the country.
The sociologist and member of the Media Observatory, Mariclem Stelling was interviewed by Venezolana de Television and said the Venezuelan right wing "is totally disjointed" and seeks to discredit and divide the government's team.
She said the opposition only unites for the electoral process, and then they break into pseudo-parties and disappear. "They are not a team, but isolated voices," he said.
Stelling emphasized that national and international political forces are exploiting the illness of President Hugo Chavez, in a combination of glee, irony and necrophilia, as they attempt to remove him from a political role.
For this, she said, they use private media and social networks that build the news from the economic and political interests to which they respond.
Stelling also stressed that these are people who see the news as a commodity and as such "Chavez and Venezuela are good business." She added that analysis shows that the most insidious is the Spanish press, a country involved in undemocratic situations regarding Venezuela.
Meanwhile, journalist Elena Salcedo said that those who are engaged in this anti-Venezuelan campaign are "information mercenaries" seeking to distort what is happening in the South American nation. They answer to an imperial bourgeoisie which aims to overthrow Chavez, she said.
In contrast, Salcedo recalled that on Saturday, more than eight thousand people signed a statement repudiating the systematic disinformation campaign waged by national and international media regarding the president's illness.
The signature collection activity took place in the Bolivarian plazas in the cities of Barquisimeto, Caracas, Maracaibo, Puerto La Cruz and Valencia.
The Proclamation was promoted by a staff of journalists and media workers belonging to the Popular Movement Periodismo Necesario, Plataforma de Periodistas de Venezuela, Periodistas Por La Verdad, TV Caricuao and Foro Candanga.