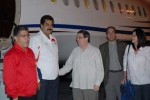 The Executive Vice President of Venezuela, Nicolás Maduro, said Wednesday before thousands of people in the capital that he will shortly travel to Havana, Cuba, to visit President of the Republic, Hugo Chávez.
Maduro said he will be accompanied by Minister of Petroleum and Mining Rafael Ramírez, in order to convey the love and affection of the people to the president.
Maduro denounced the existence of groups that seek to attack the head of the National Assembly, Diosdado Cabello, and against his own.