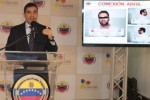 Venezuelan authorities announced this Thursday the arrest of US citizen Timothy Hallet, linked to actions of violence staged in this country following April 14 presidential elections.
The minister of Internal Affairs, Justice, and Peace, Major Gen. Miguel Rodriguez, said that the individual's behaviour makes to think that he belongs to an intelligence organization.
In a statement to press, Rodriguez said that the National Bolivarian Intelligence Service (Sebin) began tracking an operation that they call April Connection since last October.
That operation, he said, was aimed at arriving normally to the presidential elections, and based on the results of the elections; incite ignorance, with the intention of destabilizing and not recognizing the government.
During the investigations, Sebin detected a US citizen man who began to keep close relations with right-wing young members who had joined Sovereignty Operation.
"We presume that US citizen belongs to an intelligence organization because he knows how to infiltrate, recruit sources, and manage information carefully", added Rodriguez.
The minister added that they have documents that prove they were exchanging information, as well as the interception of emails linked to the destabilization activity.
Rodriguez also said audio visual materials were seized, in which students talk about the funding of the activities and plans of violence.