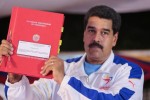 The Venezuelan government rejected statements by U.S. State Department spokeswoman Jen Psaki regarding the new Enabling Law in this nation.
"Venezuela expresses its most profound, categorical and vigorous rejection of the statements made by U.S. State department spokeswoman Jen Psaki," said a Foreign Ministry press release issued today.
Those statements are the latest example of interference by U.S. authorities in Venezuelan internal affairs, and evidence of how the opposition is indecently carrying out an agenda designed by that U.S. entity to destabilize the country, the Foreign Mministry said.
The communiqué also says that "the Venezuelan government calls attention to this serious ignorance of our country's reality and legal code."
Psaki's statements especially reflected ignorance of the Venezuelan Constitution, which stipulates that the president can be enabled to announce decrees and laws with the level, value and strength of the law, if approved by a qualified majority of the National Assembly, which was the case with the Enabling Law.
"The Bolivarian Republic of Venezuela is denouncing to the world that the U.S. government is using its paid Venezuelan opposition to carry out a plan to ignore the constitutional order," the message said.
The document reaffirmed that Venezuela's institutions are sovereign, free and independent to act according to constitutional principles in order to protect the Venezuelan people.
Psaki said yesterday that her country was concerned itself about the passing of the Enabling Law as introduced in Venezuela's Congress by President Nicolas Maduro, as stipulated by law.