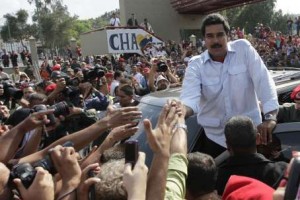 Candidate of Great Patriotic Pole to the Venezuelan presidency, Nicolas Maduro, voted today in the general elections for 2013-2019 at the Antonio Caro Bolivarian High School, in Caracas.
In remarks to local and foreign journalists, Maduro highlighted the people's behaviour and record turnout in the process, with 11.50 million people who have cast their vote so far.
He said "we are in a battle for democracy and happiness, hence the importance to urge youngsters and women, Venezuelans in general, to vote.
He expressed his happiness for honouring the promise made to Commander Hugo Chavez and the homeland.
Electoral Day has entered its final stage after the country's two main candidates and almost all political leaders cast their votes in a peaceful atmosphere lacking any major incident, with main opposition candidate Henrique Capriles voting in Las Mercedes neighborhood, in Baruta municipality, a major Venezuelan rich people's area.
Maduro Decries US Interference
Acting President Nicolás Maduro denounced today US interference in the country's internal affairs, of which he will show evidence.
In remarks to local and foreign journalists after casting his vote in presidential elections, he announced that elements of the said US policy will be released tomorrow.
Evidence refers to officials from the US Embassy in Venezuela, he added.
Al mencionar la posibilidad de normalizar las relaciones con Washington, aseguró que estará en dependencia del respeto, pues el país del norte siempre está conspirando.
He also ruled out any step under his term that may represent humiliation to Venezuela's dignity by any empire, and referred to the role of allies in the Great Patriotic Pole, recalling that his government will be of national unity, hence the call to progressive forces to act together.
Maduro ruled out a deal with the bourgeoisie and instead called for Bolivarian dialogue with business people, students and teachers about all issues.
He recalled the ongoing Revolution in Venezuela, which has created new democratic values.
[nggallery id=65]