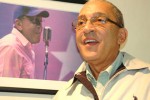 The legendary Cuban band Los Van Van plans to celebrate its 45th anniversary with a series of concerts across the island, bandleader Juan Formell announced.
Formell, a bass player, creator of rhythms like the songo, and winner of the 2013 Latin Grammy Musical Excellence Award, confessed that he always enjoys performing for the grassroots audience in Cuba, to which he dedicated his award last week.
He said the band plans to perform all of its anniversary concerts during early 2014.
Revered as the so-called "Train of Cuban Popular Music," Los Van Van was created on December 4, 1969, and its quality and popularity has earned it the nickname The Rolling Stones of Salsa.
Formell, who is popular by critics and the public alike, is considered a fundamental figure of Cuban and international music.
This year he has been honored with a number of awards, including the Womex World Music Award and the Latin Grammy.