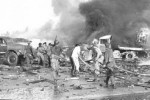 The U.S. government has refused to spread an old CIA internal secret report about its participation in the failed invasion on Playa Giron (Bay of Pigs), Cuba, in 1961.
According to Progreso weekly website, on Dec. 12, a lawyer from the government of Barack Obama said to the Court of Appeals for the District of Columbia Circuit that it's not time to issue the document.
The official story of the invasion on Playa Giron, described as a "top secret," was drawn up throughout nine years by former historian of the agency, Jack Pfeiffer.
Four volumes were already published, thanks to pressures by the private organization National Security Archive, supported by the Freedom of Information Act (FOIA), but the fifth one, which deals with the CIA own internal investigation about the invasion, remains in secret.
The passing of time has not made possible its spreading, assistant U.S. attorney Mitchell P. Zeff said to the Court for the District of Columbia.
According to the website, judges were a little skeptical about the dramatic statements by the Obama administration about the case that remains in secret one of the darkest episodes of the foreign policy in which the CIA played a determinant role.
Pfeiffer criticized in the fifth volume, a more than 400-page report resulting from an investigation by the CIA general inspector, and that is the information the White House has refused to spread.