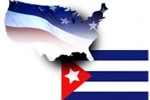 LASA experts recommend Washington to change policy towards Cuba.
US experts coincided Friday in the need for a change of policy towards Cuba, speaking at the 31st Congress of the Latin American Studies Association.
Such a step would be in correspondence with the current situation and the position of the rest of the countries in the hemisphere about the importance of the normalization of the links between Cuba and the US.
Wayne Smith, former head of the US diplomatic mission in Cuba and Robert Muse, another expert, coincided in the convenience for Washington to express its disposition to start dialogues to solve the differences.
Smith remembered all the countries of the region have relations with Cuba, except the US, and this shows the isolation of the US policy towards Cuba.
"We should change our policy. We are alone," said the US former diplomat in his intervention in one of the panels in the congress, in session from May 29 to June 1st.
He also reminded that every year, the United Nations General Assembly votes mostly against the US policy, and the countries of the region expressed their rejection to the celebration of meetings in which the presence of Cuba were not permitted, in the 2012 Summit of the Americas.
"All the countries in the world congratulated the election of Raul Castro as President of Cuba. US did not recognize this, and it brought the disagreement with this position of even some important European allies," Smith said.
Muse, for his part, said that there are areas in which an approach can be made, with practical actions to eliminate the blockade to Cuba, and that both nations should negotiate the signing of an agreement for protection of investments, as one of the US government's actions as a response to the Cuban economic updating process.
"To achieve it, work should be centered on a coalition influencing people able to make modifications to the US anti-Cuban policy," Muse said.
With more than 7,000 members from different regions (45 percent from the US) LASA is considered the biggest group of experts on Latin America in the entire world.