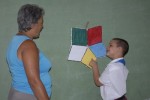 Educational attention to differently disabled children and teens in Cuba relies on the principles of equality, justice and social commitment, said today representative of UNICEF in Cuba, Seija Toro.
During the presentation here of the 2013 State of World's Children UNICEF Report, Toro denounced that in many nations these minors are among the most vulnerable because they often suffer exploitation and abandonment, with less possibility to get medical attention and education.
However, with 39 340 disabled children in the current school year, Cuba has placed children in a privileged place and one of the distinctive characteristics is the comprehensive nature of services provided to them, she said.
This is carried out through interdisciplinary teams made up of doctors, speech therapists, psychiatrists, psychologists and specialized teachers, in many cases in a personalized way.
According to the 2013 State of the World's Children UNICEF Report, nearly 93 million children worldwide live with some moderate or serious disability, which is one of every twenty children under 14.
But UNICEF lacks accurate figures, though, and as a result of it, few governments have a reliable orientation to allocate resources to support and help them, says the document.
Santiago Borges, Principal of the Latin American Special Education Reference Center, said that more than 12,000 teachers have been graduated for special education in Cuban universities, and despite the US blockade, new information and communication technologies have been introduced and made available to disabled children in special institutions.