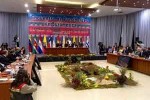 The decision by four European countries to deny access to a plane carrying Bolivian President Evo Morales, on suspicions U.S. intelligence whistle-blower Edward Snowden was on board, has brought a sharp response from Latin America.
Presidents of six member states of the Union of South American Nations (UNASUR) strongly condemned the action and demanded an apology to Morales.
Leaders of Argentina, Venezuela, Ecuador, Uruguay, Surinam and Bolivia held an emergency meeting of the group, Thursday evening, in the central Bolivian city of Cochabamba.  Representatives from Brazil, Chile and Peru attended the meeting.
A statement issued after the meeting voiced support for Morales and indignation at Tuesday's actions by France, Portugal, Italy and Spain.  The statement said that the incident "set a dangerous precedent of violating international laws" in the world.
Participants at the meeting decided to establish an event tracking committee and make a complaint to the UN about the European countries' violation of human rights.
At the meeting, Morales said Bolivia will consider the possibility of closing the U.S. embassy in La Paz, after holding Washington responsible for the incident in Europe. He also said Bolivia was a sovereign state with dignity and would never succumb to any intimidation or threats from the U.S. government. In addition, he called on Latin American countries to strengthen UNASUR solidarity and jointly counter "imperialist provocative acts."