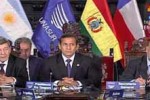 UNASUR special summit congratulated in this capital today Venezuelan President Nicolas Maduro for his election, and called tacitly the Venezuelan opposition to recognize the April 14 election's result.
The meeting of leaders of the Union of South American Nations (UNASUR) lasted about two hours, in which participants discussed the situation in Venezuela, listened to Maduro, exchanged ideas, and adopted a consensus statement, host President Ollanta Humala reported.
The statement congratulates the Venezuelan people for their massive participation in the elections, and congratulates President Maduro for the results and his election as a president of the Bolivarian Republic of Venezuela.
It calls those who participated in the elections to respect the official results emanating from the National Electoral Council of Venezuela, which is a tacit called to opposition Henrique Capriles to cease his charged with contempt to those results.
The South American statesmen argued that "any claim, question or special action" of any of the participants in the electoral process, "should be referred and resolved within the existing legal order" in Venezuela "and the democratic will of the parties."
The document calls to cease all attitude or acts of violence that put at risk social peace in that country, and expresses its solidarity with the wounded people and the relatives of the Monday violent events, referring to opposition violent attacks who killed eight people.
The statesmen agreed about this issue to send an accompanying delegation to Venezuela, to investigate the Monday violent event, which killed the mentioned tragic amount.
Maduro Highlights UNASUR  Support
A few hours before his inauguration as President of Venezuela, Nicolas Maduro highlighted today the support of the member states of the Union of South American Nations (UNASUR) for the people and democracy in Venezuela.
"Great success at Unasur Meeting in Lima" Maduro posted to his Twitter account, as he returned from the Peruvian capital for his inauguration ceremony at the National Assembly and to attend the celebrations of the 203rd anniverssary of Venezuela's Independence Act.
Maduro also described the declaration emerging from the Unasur special session as "a historical document," analyzing the situation in Venezuela after last Sunday's elections and the ensuing lack of acknowledgement of its results by former opposition candidate Henrique Capriles.
Venezuela recently suffered a wave of destabilizing actions caused by extremist right-wing groups that killed eight people and injured dozens, according to official sources.
Maduro's tweet read: "Let's celebrate the break with colonial servility and the beginning of the Road to Independence rescued by Chavez. On this April 19, congratulations to all."