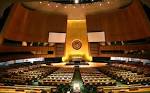 Mexico will host a meeting of vice-ministers on the United Nations Security Council reforms in 2014, the Foreign Ministry announced.
The meeting will take place during the first half of January in Puerto Vallarta, Jalisco, but the exact date is yet to be confirmed, the entity said in a statement highlighting important foreign policy achievements.
According to the Foreign Ministry, Mexico will also host the Global Conference on the Humanitarian Impact of Nuclear Weapons next February 13th and 14th, 2014, in Nayarit, in order to support the country's international activism and its presence as a responsible global player.
From March 31st to April 2nd, the country will host the preparatory meeting for the World Conference on Indigenous People, too.