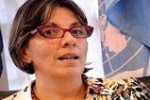 The resident representative of the United Nations Development Program (UNDP) in Cuba, Barbara Pesce-Monteiro, acknowledged this country's commitment to sustainable development, the press are reporting today.
"In this country, there is a strong political will to move towards a sustainable economic and social model which can put people's welfare in harmony with environmental protection and the rational use of natural resources," the UN official said yesterday during a forum on climate change.
Pesce-Monteiro, cited by Granma newspaper, participated at the opening of a workshop titled "Cuba's Vulnerability and Adaptation to Climate Change," taking place at the Riviera Hotel.
In her speech to participants, she stressed the priority given by Cuban authorities to studies related to climate change, and the high scientific rigor of that research.
According to the UNDP resident representative, the U.N. agency has implemented 17 projects in collaboration with Cuba; initiatives valued at $45 million dollars.
Another seven projects are being formulated and in the process of being approved, she said.