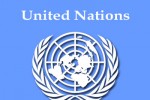 Heads of State and Government from Latin America, the Caribbean, Africa, and Asia demanded in the UN General Assembly to lift the U.S. blockade against Cuba.
Bolivian President Evo Morales described as "the worst genocide" the economic, trade and financial restrictions imposed by Washington for more than 50 years.
On the other hand, El Salvador's President, Mauricio Funes, called the blockade "a relic of the past."
In turn, Antigua and Barbuda's Prime Minister Winston Spencer said the Caribbean nation is very proud of its longstanding relationship with Cuba.
At the forum, Kamla Persad-Bissessar, Prime Minister of Trinidad and Tobago, said that Caricom, a mechanism from which her country holds the presidency, described as anachronistic the blockade.
The President of Timor-Leste, Taur Matan Ruak, also requested the end of a siege that has left multi-millions in losses and a strong impact on Cuban social sectors for more than 50 years.
Speaking at the session, Chad's President Idriss Deby Itno joined the claim to end the sanctions, in order to "allow that country find the way it deserves in the concert of nations."
During the first day of the Assembly high-level discussions held yesterday, the presidents of Uruguay, Mozambique, Sri Lanka, Gabon, and South Africa demanded the lifting of the blockade.