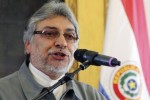 A high instance of the United Nations (UN) said, for the first time, that the expedited removal of Paraguayan President Fernando Lugo, last June, included significant irregularities and claimed to investigate it.The resolution just adopted by the Human Rights Committee of the UN, to analyze violations in the South American nation, put the issue on the table as the executors are prepared to dispute the power in the elections of April 21 .
Both the traditional political parties and members of Congress who now aspire to be reelected, were architects of an agreement which imposed an impeachment against the constitutional president, dismissing him in just over 30 hours.
The events led to the immediate suspension of membership of Paraguay in Unasur and Mercosur, the two large integrationist blocs in South America, and the repudiation of government emerged from the parliamentary coup by its members and other countries.
Paraguay was also prevented to participate, not only in the activities of these bodies but of international events such as the Iberoamerican Summit and the establishment of important Community of Latin American and Caribbean States (CELAC), among others.
Now, the Committee responsible for monitoring compliance with the International Covenant on Civil and Political Rights called for an investigation of these irregularities, including the violation of the right to a fair defense of the president.
The imputation of UN acknowledged that the removal of the constitutional president is not conducted in full accordance with the basic principles of due process.
The resolution of the UN committee, containing also heavy criticism of abuses, assaults and murders against peasants and indigenous underpinned the Government's international isolation and revived criticism of the coup participants seeking to stay in power.