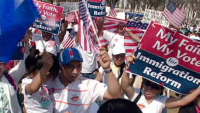 A draft of a White House immigration proposal would allow illegal immigrants to become legal permanent residents within eight years, media reported today.
The plan also would provide for more security funding and require business owners to check the immigration status of new hires within four years. In addition, the nation's 11 million illegal immigrants could apply for a newly created "Lawful Prospective Immigrant" visa.
The draft was obtained by USA Today through a White House official who requested anonymity because he was not authorized to publicly announce it. He also said that the text is distributed to various government agencies for consideration.
If approved, they could then apply for the same provisional legal status for their spouse or children living outside the country, according to the draft.
Illegal immigrants would be disqualified from the program if they are guilty of a crime that led to prison for at least one year, three or more different criminal acts resulting in a total of 90 days in jail, or if they commit offenses abroad that determining classification as inadmissible on U.S. soil.
The project, which also provides for the expansion of the electronic verification program background of job seekers, was announced at a time when members in both chambers of Congress are drafting their own immigration bills, USA TODAY reported.
In the House, a bipartisan group of representatives has been negotiating an immigration proposal for years and are writing their own bill. Last month, four Republican senators joined with four Democratic senators to announce their agreement on the general outlines of an immigration plan.
According to official data, since Obama took office in January 2009, over a million and a half of illegal immigrants have been deported, and only in fiscal 2012 there were 409,849 expulsions.
According to recent polls, about 80 percent of U.S. voters support immigration reform that allows undocumented immigrants gain citizenship.