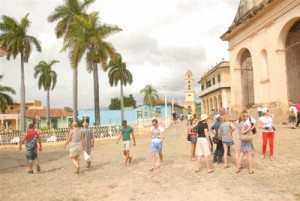 Investments in the Trinidad-Sancti Spiritus destination aim at promoting the historic tourism; that is why the City Museum of the Caribbean moves forward in extending the capabilities of accommodation located in the historic center.
Thus, La Popa Hotel, with French capital and about 50 luxury rooms has been under construction in one of the most peculiar inner-city neighborhoods. Completion is scheduled for 2014, after overcoming quite a few drawbacks in the implementation of some work objects and the stability of resources .
Trinidad Radio website reports that, in the very heart of the historic city, another architectural gem reborns like a phoenix: the Iznagas Palace, of the Encanto Hotels Group, belonging to Cubanacan chain; it will have 10 rooms in the heritage building and 31 in a new property, where the most pressing works already began such as the consolidation of the walls in danger of collapse and the restoration and restitution of the original elements.
These investments are part of the strategy defined by the Tourism Ministry (MINTUR) which aim at complementing the destination Cuba with a strong cultural component and some important places in Trinidad and Sancti Spiritus, villages among the first founded in the island.
Modern recreational facilities, with up to 2000 rooms in the upcoming two years, are also planned for the Ancon Peninsula, with mix funding.
By Ana Martha Panadés