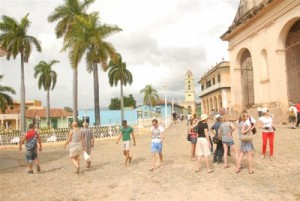 Trinidad, the third of the cities founded by Diego Velazquez in Cuba, readies to celebrate its 500 years.
Trinidad, the third of the cities founded by Diego Velazquez in Cuba, retains the old colonial atmosphere that prevails in the cobbled streets, red-tiled roofs and mansions once inhabited by rich slave landowners.
In 1988, the United Nations Educational, Scientific and Cultural Organization (UNESCO) gave the status of World Heritage Site to the historic center of Trinidad and the Valley of San Luis, or as it is also known, the Valley of the Sugar Mills, which has 73 industrial archaeological sites.
According to the documents consulted, the number of sugar mills or factories in that valley rose to 48 in 1840, and their former splendor can still be appreciated, while in 1827 there were 11 697 slaves. If a nineteenth century architectural construction is evidence of the power of a family in Trinidad, that is undoubtedly the tower of the old sugar plant Manaca Iznagas, erected as watch and bell, and surrounded by stories and legends that have survived time.
LIVING TREASURE

Known as Natural Museum of the Caribbean, Trinidad holds dear interesting stories whose central characters are pirates, hidden treasures, legends like the beautiful indigenous Caucubú, who faced the fury of the Spanish colonizers, or the visit of important figures, like the wise German Alexander von Humboldt (1769-1859), considered the second discoverer of Cuba .
Others are related to the arts as the presence of Cuban poet Gabriel de la Concepción Valdés- Placido- (1809-1844) or to manual labors, including embroidery.
The streets retain their old smell and can bring back pain, hopes, disappointments, as well as the bitterness or oblivion left by some experiences.
The city is preparing to celebrate its 500 years of life, half a millennium that can be said fast and easy, but they will test what the village is capable of doing while defeating the pass of time.
Translated by Escambray