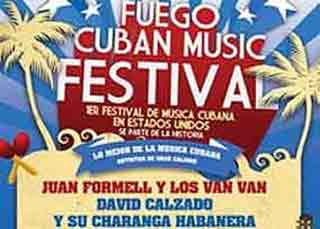 After overcoming diverse obstacles, a court in Miami, United States, began yestarday the trial over the suspended Cuban music festival in that city in 2011, which was motivated by pressure of extremist sectors.
Judge Sarah Zabel will rule on the case after hearing the arguments of the organizing litigants in the coming days.
According to the media, the list of witnesses includes government officials, businessmen and activists from community organizations.
The Fuego Cuban Music World Festival was scheduled for April 9, 2011 at the Homestead Miami International Speedway, 40 kilometers from Miami, but the owners cancelled it claiming there was hidden information.
The organizers denied those arguments and filed a lawsuit demanding a million dollars in compensation for losses following the suspension of the event and breach of contract.
Homestead council tried by every means to obstruct the trial that was postponed by fruitless negotiations of the parties in recent months.
The Festival planned to present Cuban music stars such as Juan Formell and Los Van Van, David Calzado and his Charanga Habanera, Buena Fe, Moneda Dura and Pachito Alonso, together with musicians from the United States.
For the American Civil Liberties Union, the cancellation of the event was a violation of free speech rights.
That group and the festival organizers reported that Homestead owners were pressured by right sectors led by Lynda Bell, Homestead commissioner and Miami-Dade County lawmaker, who publicly vowed to do everything possible to prevent it.