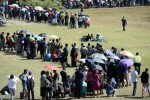 South Africans have the last opportunity to pay tribute to recently deceased former president Nelson Mandela, whose mortal remains have been at Pretoria Government Palace since Wednesday.
Some 40,000 people filed past the coffin of Mandela, who died on Thursday December 5th of a lung complication set in during the many years he served in apartheid prisons.
Current official estimates went beyond previous governmental estimates, and during three days personalities, important figures and ordinary people passed through the site to pay tribute to Tata Madiba, at a rate of 3,000 people hourly.
Madiba's burial is planned for Sunday 15th in Qunu, Eastern Cape, in a ceremony that will not be open to general public and will be rather a traditional ceremony with the participation of the family and his Thembu clan.
According to the tradition of that South African ethnic group, the elderly will be next to Mandela telling him about each step he has traveled in his return to home, as well as details about every stop that the caravan makes.