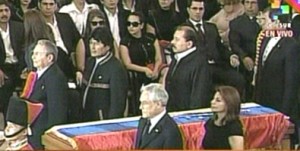 The president of Venezuela, Hugo Chavez, who died last Tuesday, March 5, received today the tribute of family, world leaders and members of the cabinet, in solemn ceremony held at the Military.
Representatives of 54 foreign delegations, 32 of which led by heads of State or Government paid homage to the leader of the Bolivarian Revolution.
As part of the program, Executive Vicepresident of Venezuela, Nicolas Maduro, put on the casiket with the remains of president Chavez, the sword replica of Liberator, Simon Bolivar.
After the notes of the Nacional Anthem, interpreted by the Symphonic Orchestra and juvenile choir Simon Bolivar, directed by Gustavo Dudamel, Maduro complied with the rite.
After that, began the guard of honor by dignataries of the Community of Latin American and Caribbean States (Celac in Spanish). The first group was formed by presidents Raul Castro (Cuba), Rafael Correa (Ecuador), Daniel Ortega (Nicaragua), Sebastián Piñera (Chile) and Laura Chinchilla (Costa Rica).
Intense emotion aroused the tribute offered by the heads of State Alexander Lukashenko (Belarus), accompanied by his son and Mahmud Ahmadinejad (Iran).
Beyond the diversity of ideologies and political stands, Chavez became once again this Friday the unifying element under the common interest of Latin America and the world.
Also, famous sportspeople, artists, musicians and community leaders joined in this last homage.
Under the musical notes of the Symphonic Orchestra and Youth Chorus Simon Bolivar, the ceremony included a prayer said by United States reverend Jesse Jackson.