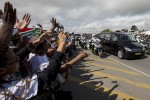 The body of Nelson Mandela, the former South African president and a global icon against racism, was buried in Qunu, Eastern Cape, around 12:40, local time, on Sunday.
Six warplanes overflew the area in the country's southern region, and three army helicopters transported a huge South African flag at the conclusion of the ceremony, which ended ten days of official mourning to honor Mandela.
"Rest in the same peace that you have given to the people of South Africa, Tata Madiba. May God bless your soul and grant it eternal rest," states a message broadcast on national radio. Mandela was buried beside his father, Mphakanyiswa Gadla Henry; his mother, Noqaphi Nosekeni, and his son, Magkatho Lewanika, while a 21-gun salute was heard in the country's major cities.
The Peace Nobel Prize winner died on December 5 in Johannesburg at the age of 95, due to a lung infection that worsened since early 2013 and kept him under strict medical care for almost six months.