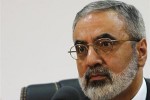 Syrian authorities have expressed on behalf of the Syrian people that there will be no dialogue with armed terrorists, either at the Geneva II summit or afterwards, due to the huge suffering they have caused the country.
Damascus's position is well defined in relation to the issue; the government can, along with the opposition, hold talks and seek resolutions to the armed conflict the nation is living through, yet it is the Syrian people who will have the last word at the polls.
However, there will be no talks whatsoever with those who have blood on their hands or who are calling for a foreign military intervention, said Minister of Information Omran al-Zoabi.
"The only contact with the armed groups will be that which results from combat with the Syrian Arab Army," a Syrian journalist told Prensa Latina.
In statements to Russia today, al-Zoabi said that the dialogue will be held among politicians, and not between the State and the terrorists who detonate car bombs and kill civilians.
Groups affiliated with al-Qaeda, such as the al-Nousra Front, and the Islamic State of Iraq and The Levant, and those who are associated with them, are not invited to the dialogue, stressed al-Zoabi.
The Information Minister also added that Syria expects that neither U.N., Russia, nor the United States, or any other country will ask Syria to hold talks with terrorist organizations.
Al-Zoabi recalled that it was Syria who called for a national dialogue from the beginning and also expressed willingness to attend the Geneva conference without preconditions.