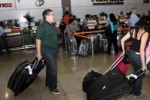 With a rise in number of travelers from Chile and Brazil, the flow of tourists from the Southern Cone countries to Cuba now exceeds 100 percent, reflecting the growing interest of these markets in the Caribbean island, official statistics reflect.
From January 1 to August 7, about 118,303 tourists traveled to Cuba from Argentina, Brazil, Chile, Paraguay, Peru, and Uruguay, an amount that exceeds 117,536 compared with the same period last year, representing 100.65 percent.
This is confirmed by information provided by Tourism adviser at the Cuban embassy in Buenos Aires, Luis Felipe Aguilera, who highlighted the positive development of Chilean and Brazilian visits, which although nominally are large, show a growth into the future.
In the analyzed period, some 24,074 vacationers traveled from Chile to Cuban destinations, above 18,252 compared with the same period in 2012, for compliance with 131.90 percent, while the amount from Brazil rose from 10,132 to 10,682, for a 105.43 percent.
On July 10, the Cubana de Aviacion airline reopened its Havana-Sao Paulo direct flight, which is expected to increase the flow of Brazilian visitors to the island.