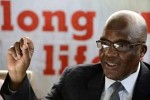 outh Africa launched the world's cheapest antiretroviral program this Monday, an authoritative source reported in this capital.
Its main advantage is improved logistics, because with this new project, the number of pills prescribed is reduced from three pills to only one, South African Health Minister Aaron Motsoaledi stated.
This new method also allows patient treatment for 89 rand a month ($9 dollars), something never before seen in the country, which means we can care for more people, Motsoaledi said at a news conference.
The program is the result of an agreement announced in November 2012 by Pharmcare Aspen, Cipla Medpro and Mylan Pharmaceutical laboratories, to simplify and reduce costs for treatment against HIV-AIDS, the minister said.
South Africa is the country with the most infected people with Human Immunodeficiency Virus (HIV) which causes AIDS.