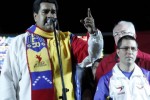 The United Socialist Party of Venezuela (PSUV) and its allies reached a majority in the national political arena after triumphing in 212 council halls during Sunday's municipal elections.
The National Electoral Council (CNE) recently reported the right-wing Democratic Unity Committee (MUD) obtained 74 seats, while 51 are still pending to be occupied.
The PSUV and the Great Patriotic Pole reached a majority in 21 states of the country since only in Tachira, the MUD triumphed in 16 of the 29 municipalities.
The PSUV lead the elections with 4,584,477 votes (44,1 percent), a number that increased up to 5,111,336 when taking into account the forces that supported it, reaching 49,2 percent of the valid ballots.
On the other hand, the opposition only got 4,435,097 votes, 42,7 percent of the total.
Authorities consider that the pending seats will be occupied within a few hours to finally close the elections that convened 19 million Venezuelans.