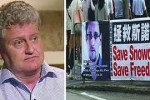 The father of US citizen Edward Snowden, persecuted for releasing a secret spying program of the National Security Agency (NSA), will travel to Russia soon to visit his son, after receiving the visa.
Lon Snowden confirmed to the broadcaster ABC News that he and his lawyer, Bruce Fein, have flight date, but they will disclose it to avoid hysteria in the media.
He said he does not believe his son could face a fair trial in the United States because the authorities will do everything possible to convict him of treason.
"As a parent I would want my son to come home if I thought that the judicial system will be applied correctly," he assured.
Edward Snowden reported last June to U.S. and British reporters on intrusive programs of the NSA to spy phone records, audios, videos, pictures, emails, documents and online connections of millions of users, governments and foreign companies.
Since then, the United States wants to incarcerate him, canceled his passport and accused him of espionage, theft of confidential messages and Government properties, for which he could face a maximum sentence of 10 years in prison.
The granting him by Russia of temporary asylum make Washington-Moscow relations more tense and, in response, President Barack Obama cancelled a meeting with his Russian counterpart Vladimir Putin, scheduled for September.