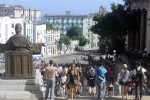 Students and teachers of the Semester at Sea program, sponsored by the University of Virginia, USA, visited the University of Havana as part of third stay in Cuba.
The cruise ship the Explorer arrived Monday carrying 648 people, 568 of whom are students from over 200 universities in 42 states. Most are American, but there are other nations represented as well, such as Mexico and Canada.
In remarks at the University of Havana, the executive dean of the program, Nicholas Iammarino, said that he was very pleased to celebrate the 50th anniversary of Semester at Sea with a return to Havana after nine years of absence.
He also stressed that, as stated by Nelson Mandela, the recently-deceased South African leader, education is the most powerful tool for changing the world.
"This is vital to our goal of being able to train young people to mold the reality of our countries through a message of friendship, peace and reconciliation," he said.
Travelers were greeted by the president of Cuba's Federation of University Students, and climbed the main steps together with Cuban students and professors.
They learned about the university's history and participated in talks on Cuba's political system, the impact of the university in the development of the country, and the conflict between Cuba and the United States.
According to the academic dean of the project, Kathy Thornton, visitors know that Cubans are some of the friendliest people in the world, and hope that relations and exchange will be very fruitful.
Since 1963, about 45,000 students have enrolled in the Semester at Sea program, representing nearly all U.S. universities.
From 1999 to 2004, the group made 10 trips to Cuba, and during seven of them, the historic leader of the Cuban Revolution, Fidel Castro, met with the students.
The visits stopped because of constraints imposed by the economic, commercial and financial blockade of the United States on Cuba for over half a century and, above all, due to restrictions on academic and cultural exchange established by former President George W. Bush.