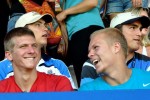 The president of the Semester at Sea Cruise Ship academic program, Les McCabe, announced that given to the positive results of this visit, the group will return next year for longer.
Sponsored by the University of Virginia, USA, the program brought yesterday about 648 people to Havana, 568 of which are students from more than 200 universities in 42 states of the Union, most of Americans, but there are from other nations, such as Mexico and Canada.
The objective of this project is the students can visit places of different languages that have strong and weak economies, with different political systems, so they are capable of contrasting for their own experience, McCabe said.
In his opinion, that the cruise ship's youth can exchange with students from the island is a great possibility.
Despite the geographical proximity between the two countries, there is much ignorance about Cuba, he said.
McCabe also stated that such exchanges can lead to better relations between the United States and Cuba.
The program traveled to Cuba 10 times between 1999 and 2004. In seven of them, the leader of the Revolution, Fidel Castro, held meetings with those students.
As of 2004, those travels ceased due to the obstacles imposed as a result of the U.S. blockade, especially for the restrictions imposed by U.S. President George W. Bush, who limited academic and cultural exchanges.
The Semester at Sea program will travel tomorrow afternoon to their final destination, the United States. Before docking in Havana Habor, the cruise ship visited about 14 nations.