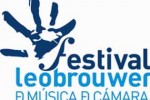 The Fifth Leo Brouwer Chamber Music Festival has begun in the eastern Cuban city of Santiago de Cuba, and will run until October 13 in Havana, with the participation of artists from more than 10 countries.
The event will pay tribute to a roster of universally acclaimed artists. Distinguished Cubans include Harold Gramatges and Ernesto Lecuona, along with the Czech David Popper, the German Paul Hindemith, the French Francis Poulenc and the English Benjamin Britten.
This musical event will also pay tribute to another 20 personalities of national and global music. At the same time it acknowledges 35 years of Research and Development of Cuban Music and the centennial of the National Museum of Fine Arts.
This is the first occasion in which the Festival has reached eastern Cuba and its venue is one of the sites recognized with the best acoustics in Cuba, the Dolores Hall, opening stage for last night's concert, and with the Eastern Symphony Orchestra as one of the host institutions.
The associated conference "Oldest Musical Heritage of Santiago de Cuba" will feature presentations by the scholars Miriam Escudero, Claudia Fallarero, Franchesca Perdigón, Iránea Llilian Silva and Perez, as well as choir performances by the Santiago Choir and Eastern Symphony Orchestra.
Cello Plus, Brouwer Flamenco and For the Lady Elf will be the three spaces that offering more than 40 national and world premieres.