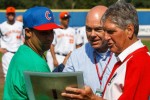 Sancti Spiritus Eriel Sanchez, Yulieski Gourriel and Ismel Jimenez were essential in the title obtained by their team in the 14th World Port Tournament, held in Rotterdam.
The Western Squad, winner of the All-Star Game in the past season in Cuba, got crowned in the recent edition of the international baseball event when beating locals 4×0 in the final.
The pitching area (1.48 ERA) led by Sancti Spiritus' Juan de Dios Peña was crucial in the triumph, with brilliant names such as Wilber Perez, winner of two games vs. the Netherlands and impeccable ERA in 12.2 innings, and Rasiel Iglesias, responsible for four saves and 11 strikeouts in 7.1.
Roosters' Ismel Jimenez was chosen as the best hurler of the tournament as he accumulated two victories in two outings, working 15. 2 in which he allowed eight hits, gave one walk and stroke out 18 rivals.
The offense, though unexpectedly "shy", had a few men who benefited the wins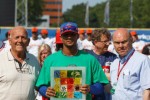 like Sancti Spiritus' Yulieski Gourriel (286 ave, 8 H, 2 R, 3 RBIs) and Eriel Sanchez (376 ave, 6 H, 4 RBIs), the former being selected as the event's MVP.
Alexander Malleta won also the distinction of Homerun King for his blast against China Taipei. Industriales' first baseman averaged 286, with 4 RBIs.
Besides, Cuba's crown in Rotterdam is the first international title for debutant manager Yovani Aragon, who led Roosters climb from the 8th place to the 4th in the last national championship.
(With information from Cubadebate and Blog Zona de Strike)