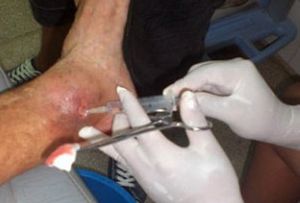 Heberprot-P is a unique drug developed in Cuba.
By Arelys García Acosta
Over 70 per cent of diabetic foot ulcer cases in Sancti Spiritus are handled at primary-health-care institutions, where Heberprot-P treatment is possible.
The abovementioned statement was made known during a meeting held this Friday in this city, where experts from all over the island discussed how to systematize early actions involving diabetic patients.
Rafael Ibargollin Ulloa, coordinator of the National Program for the Extension of Heberprot-P in central Cuba, emphasized the convenience of treating ulcerations in early stages; this way patients heal sooner, and subsequent complications can be prevented.
Over 300 diabetic patients have been so far diagnosed in Sancti Spiritus this year. This territory outstands in the Heberprot-B-related program implementation, and is only preceded by Isla de la Juventud.
Some 20 626 diabetic foot ulcer patients have been treated in hospitals, polyclinics, and diabetic people assistance centers, since  the drug was first used at primary health care level in the island.
(Translated by Escambray)