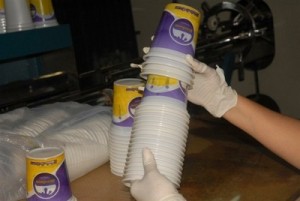 After a rigorous evaluation of the products presented in the most important trade event of the island, FIHAV 2013, the Escambray Electromechanical Factory, located in the mountain community of El Pedrero, debuted with a list of goods destined for the Tourism branch and other units of the Food Industry.
Disposable plastic plates, glasses of 8 and 12 ounces, thermoforming production line, as well as food containers and covers are exhibited these days in Expocuba, traditional venue of the meeting, where representatives of dozens of countries come together each year.
According to Pedro Perez Cardenas, CEO of Electomecanica Escambray the submitted sample meets the quality standards and their main aim is to be known in the commercial branch, in addition of identifying potential customers at a national level and abroad.
"Little by little we are entering in the world of negotiations, which is highly competitive and requires high levels of presence, proper termination of the productions and quality," said Perez Cardenas.
The 31st Havana International Fair, FIHAV 2013, which constitutes the most relevant commercial rendezvous of Cuba and the Caribbean, and of the most renown in Latin America, will run until November 9.