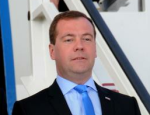 Russian Prime Minister Dimitri Medvedev, arrived here today in a work visit where he will accomplish an intense agenda aimed at boosting bilateral relations.Medvedev was received at the international air terminal Jose Marti by first Vicepresident, Jose Ramon Machado Ventura, and Foreign Minister Bruno Rodriguez.
According to the program, the visitor will meet with the hosting head of State, Raul Castro, to attend the signing of several agreements and will render homage to the National Hero of Cuba, Jose Marti.
During his stay, the Russian Prime Minister will also deposit a flower wreath before the Mausoleum of the Soviet Internationalist Soldier.
Medvedev arrived to the Caribbean island from Brazil, as part of a Latin American tour.
Havana and Moscow established diplomatic relations on October, 1942, later interrupted in 1952 by the Fulgencio Batista dictatorship and reestablished in May, 1960.
Besides the bilateral political links at the highest level, Cuba and Russia maintain ties in the areas of investment, trade, tourism, health and culture.
In 2009, both parties signed a Memorandum on the principles of mutual strategic collaboration, reactivated during a visit of Cuban President Raul Castro to Russia.