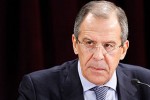 Russian Foreign Minister Sergei Lavrov highlighted that the development of events in Syria during 2013 constitutes an example of how policy in favor of peaceful methods is more effective than the use of force.
Lavrov said that Russia's diplomatic work in 2013 was focused on mobilizing international mass efforts to facilitate a peaceful solution to regional conflicts and crisis.
The Foreign minister said that Moscow with its strongly supported position prevented an armed intervention in Syria, a dangerous deterioration of the Middle East's situation, and the extension of the conflict beyond the region.
Lavrov said that the joint position reached by Russia and the U.S. allowed to agreed on a solution that puts Syrian chemical weapons under international control for their later elimination.
He said that the first step of that process has been completed successfully, and the main parameters of the second one were passed last December 17 in a meeting of the Executive Council of the Organization for the Prohibition of Chemical Weapons.