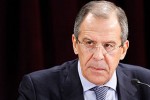 Foreign Minister Serguei Lavrov reiterated Russia's warning against possible attempts by Syrian armed opposition groups to hinder the destruction of the country's chemical arsenal and thereby reopen the way to a military intervention.
Russia Today quoted Lavrov as saying that Moscow urges those countries with direct influence on opposition groups in Syria to call them to refrain from any unacceptable provocation aimed at hindering the disarmament process and to stop insisting on the need for foreign intervention.
In his speech at the Eighth Eastern Asia Summit being held in Brunei, Lavrov said that the destruction of the chemical weapons in Syria has so far continued without obstacles.
The Foreign Minister said that Russia is making its best efforts to ensure that the Syrian government continues collaborating in good faith with the inspectors from the Organization for the Prohibition of Chemical Weapons.
On Thursday, Foreign Ministry spokesman Alexander Lukashevich insisted that responsibility for the storage, use and destruction of the chemical arsenals cannot fall solely on the Syrian Government, but also on opposition groups and neighboring countries.