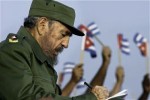 Fidel's first visit to the Soviet Union was recalled by Russian Deputy FM.
Russian Deputy Foreign Minister Sergey Ryabkov appreciated today the celebration of the 50th anniversary of the first visit to the Soviet Union of the leader of the Cuban Revolution, Fidel Castro, as a significant event in bilateral relations.
The Eternal Friendship photographic exhibition, devoted to the visit initiated by Fidel Castro on April 27, 1963, exceeded all boundaries and time, because of its significance, Ryabkov said at the opening ceremony of the exhibition, at the Museum of the Great Patriotic War in Moscow.
The deputy foreign minister recalled that the stay of the revolutionary leader was unique due to its length, content, and the number of sites visited, virtually all our great country for more than one month.
It was the platform for the beginning of the great flight of bilateral relations, which then continued in subsequent years. But at that time, the foundations of indestructible bonds were laid, the diplomat said.