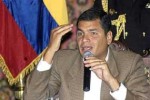 Ecuadorian President, Rafael Correa, assured that his government will analyze the case of Edward Snowden responsibly, and assured that he will take a decision with sovereignty.
"You can be sure that we will analyze the Snowden case very responsibly and we will take the right decision that we believe it is more appropriate with absolute sovereignty", he said through his account in world wide social net Twitter.
Ecuador will analyze the asylum request sent by the US young citizen under the principles established by the Constitution of this South American nation, assured Ecuadorian Foreign Minister Ricardo Patiño, in a press conference transmitted in direct from Vietnam, where he is carrying out an official visit.
The Ecuadorian government puts priciples above the particular interests, the official said in press conference and added that "those principles will always be put above any other interest that someone wants to state or pressures to exercise."
Patiño remarked that Ecuador acts based on principles that are coming from the Universal Human Rights Declaration and other instruments in the frame of the international right, of the humanitarian international right and the common international rights.
Snowden, former agent of the US Central Intelligence Agency, was regarded in Washington as a traitor because of informing the press on federal spying. He left this Sunday from Hong Kong and arrived in a Russian airport.
United States had requested Snowden's extradition to Hong Kong and accused him of espionage, robbery of confidential communications and the government's properties.
Washington has established contact with several Latin American countries in order to achieve Snowden's arrest and extradition, in the case of Ecuador, through its embassy in this nation, Patiño finally pointed out.